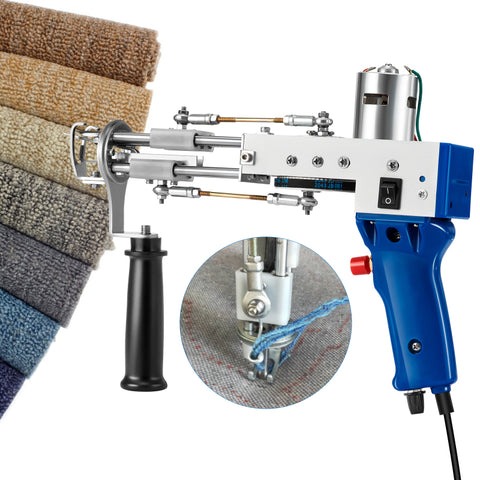 Description:
▶CUT PILE 
Electric carpet tufting gun, carpet weaving machine, flocking machine, industrial embroidery machine, cut pile knitting machine (cut pile)
▶

High quality
This knitting gun has a very wide range of applications. It can be used for weaving different types of carpets. The motor speed can reach 2400RPM or higher for high-speed tufting, which improves work efficiency. At the same time, it is quieter and will not make a loud noise and almost all yarns are available, it is advanced special equipment that can greatly improve work efficiency in modern production.
▶Meet various needs
The speed of this tufting gun studio can reach 5-40 stitches per second, and the adjustable carpet height is 7-21mm, which increases the production efficiency by 80-100 times and saves more than manual knitting Manpower and time.
▶Safety protection
The tufting gun has over-voltage, over-current, and short-circuits protection functions, which can avoid accidents during use
▶Lightweight and portable
The tufted carpet gun is a portable electric knitting tool. The product is only 1.4kg. You can easily lift it for operation. After use, it can also be stored in a cabinet or trunk without taking up too much space.
▶Simple operation
Easy to operate and master, it is not only suitable for high-speed knitting and flexible movement, but also suitable for mobile table work, which can knit a variety of fancy patterns.
▶Easy to use
The tufting gun is 100% ready to use upon delivery allowing you to start off your tufting right away. This cut pile tufting gun very easy to use and easy to learn. This is a great machine for when your new at tufting nevertheless a proven model for professional as well.
Please note: Tufting guns are industrial tools. They are electrical appliances with sharp parts. Please use with caution.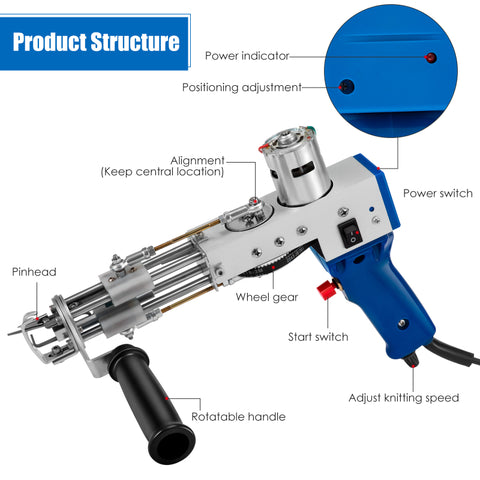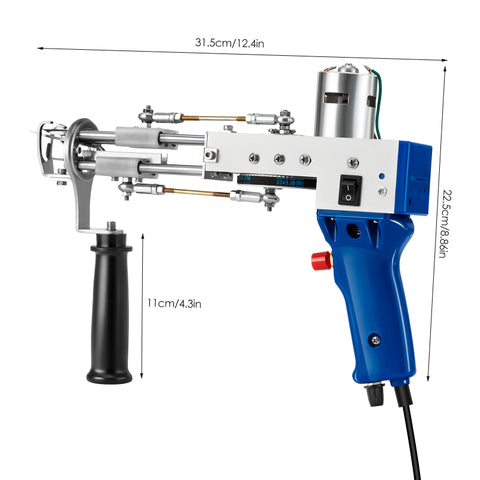 Specification:
Name: Electric Tufting machine
Model: CUT PILE
Voltage: AC 100-240V
Frequency:50-60HZ
Power: 70W
Speed range: 5-40 stitches/sec/adjustable
Pile high:7-21mm/adjustable
Output DC:24V small adapter
Machine weight:1.4KG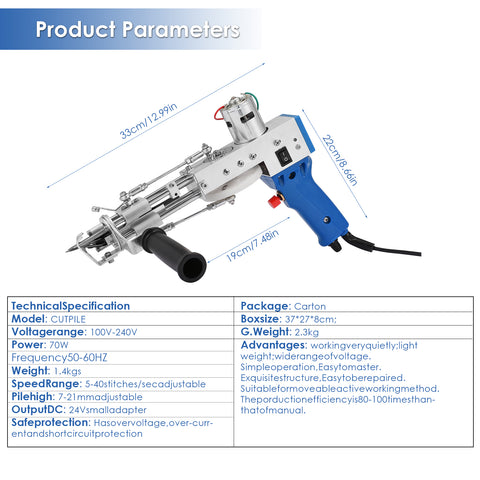 PRODUCT PACKAGING:
1 x Tufting gun
2 x Scissors
1 x Wrench
1 x Allen wrench
1 x Threader
1 x Power converter
1 x Power wire (US standerd)